Doctor Faustus
Conjuring Spectacle and Fun Out of Marlowe
By Christopher Marlowe
American Shakespeare Center, Blackfriars Playhouse, Staunton, Va.
Saturday, January 30, 2010, C–6&7 (center stalls)
Actors' Renaissance Season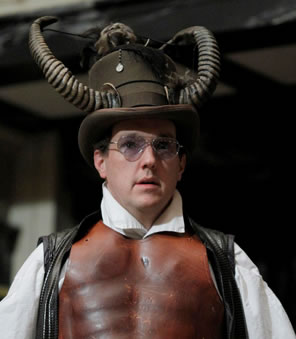 John Harrell plays Lucifer in the Blackfriars Playhouse production of
Doctor Faustus
. Staging plays in the Actors' Renaissance Season at the Blackfriars, the actors not only work without a director, but without costume designers, too. Harrell created Lucifer's look—including goat legs—from odds and ends he found in the playhouse's costume shop. Photo by Tommy Thompson, American Shakespeare Center.
This was an ambitious undertaking by the ASC troupe of actors as part of their Actors' Renaissance Season, wherein they mount the play with less than 50 total hours of rehearsal using only their parts and cues and without a director. Marlowe's typically bombastic spectacle is filled with special effects: on-stage dismemberment, visits by spirits, and Faustus descending into the mouth of hell itself. Sarah Fallon told us afterward that she spent more of her time running effects back stage than she did in a half- dozen roles on stage.
As an ASC project, it displayed a team clicking on all cylinders. The comings and goings of characters and the jumps and starts of the plot were carried off without a hitch. As theater, the play came off well, too, despite Marlowe's mighty verbosity and preachiness. Primary credit for that goes to René Thornton Jr. in the title role. Thornton's speechy performance was a perfect fit for the Wittenberg necromancer as he first debated which route of philosophy he should pursue, then weighed the consequences of his choice to pursue his alliance with Lucifer, later boasted of his powers, and in the end decried the imminent loss of not just his life but his soul to a perpetuity of suffering. His opposite, both dramatically and in style, was Benjamin Curns' Mephistopheles, soft-spoken but firm, seemingly pliant but subtly maneuvering all the while.
The rest of the cast members each unleashed a quiver full of stock characters, as much a cause of Marlowe's style of writing as it was the short book-to-stage production cycle. The same thing happened with ASC's staging of Shakespeare's Henry VI, Part 1, last year, and that Actors' Renaissance production revealed how rich the Bard's characterizations were even in his earliest plays, especially in contrast to Marlowe's Doctor Faustus.
There were two key highlights, however. John Harrell played Lucifer with goat legs not only in appearance but mimicking the motion of an agitated goat. Then, in the tavern scene, the stock ruffians played by Miriam Donald, Daniel Kennedy, Gregory Jon Phelps, and Christine Schmidle sent the audience into uncontrollable laughter and, in unison, delivered the night's most memorable moment: "O, horrible! had the doctor three legs?!"
Eric Minton
February 1, 2010
Comment: e-mail editorial@shakespeareances.com
Start a discussion in the Bardroom